Features
●

High Adhesion and It Maintains even under Wet Conditions

The newly developed adhesive monomer has the characteristic of dissolving in both water and oil and achieves high adhesion on both enamel and dentine of teeth even under wet conditions.
●

Excellent Application Property

The finely controlled compounding ratio of the hydrophilic component and hydrophobic component, along with the effects of the newly developed adhesive monomer, make it possible to apply the component evenly without separating the liquid. It can be used for 10 minutes* after being discharged.
*under shade at 25°C
●

Microscope Observation of Adhesion Interface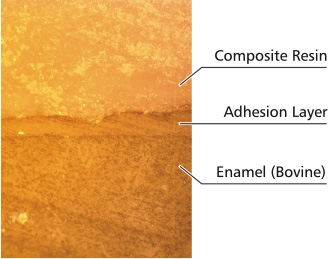 Dense adhesion layer is created.
●

TEM Observation of Adhesion Interface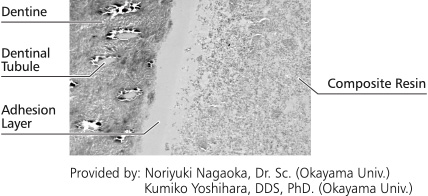 Adhesive material is performed decalcification in low irritative
condition in order to bond composite resin to dentine/enamel.