YAMAKIN has improved our unique materials technology even further and developed an even better CAD/CAM Block.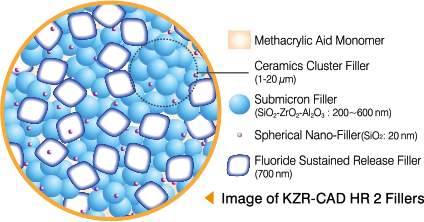 At YAMAKIN, we have been pushing forward to evolve our in-house-developed Ceramics Cluster Filler even further, to expand its range with new functions. As a result, we have completed KZR-CAD HR Block 2 (HR 2) which has outstanding strength and durability. At the same time, it also has excellent processability and polishability and fluoride sustained release. KZR-CAD HR Block 2 helps to streamline operations not only in the laboratory but also at the clinic, to make polishing operations go smoothly after occlusal adjustment. It is less likely to wear natural teeth and maintains glaze.
KZR-CAD HR 2 is the CAD/CAM block that perfectly meets user's needs.