Function table depending on materials and tooth

E:Etching C:Cleaning P:Priming
Zirconia
Glass-Ceramics
Precious Metals·
Non-precious Metals
Resin*
CAD/CAM crown, Hybrid-Resin,
Hard Resin, Composite Resin etc
Tooth Substance
Enamel
Dentine
CP
C
C
C
EC
EC
*Contains inorganic fillers
Feature.1

Multi-cleaning for orthoprosthesis

Inhibiting factors such as saliva are removed by applying "Multi Etchant," and then rinsing and drying, which brings out the true performance of the adhesive material.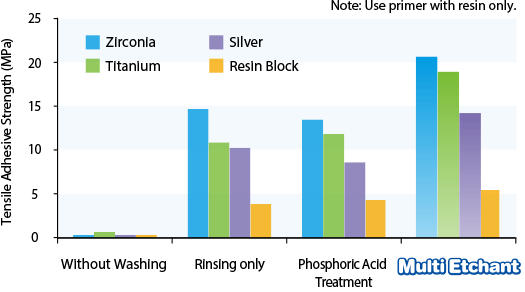 The test specimens contaminated with saliva were cleaned in the relevant ways, and tensile adhesive strength was then checked under the same conditions while using self-adhesive type resin cement. (refer to ISO/TS 11405)
Feature.2

Simultaneous cleaning and priming effect on zirconia

This product exhibits both a priming effect as well as a cleaning effect for zirconia treatment.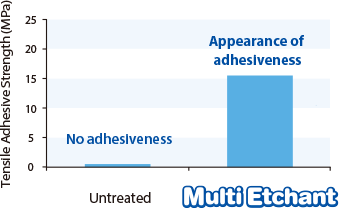 Adhesive strength when using primer combination type resin cement on zirconia test specimens on which primer pretreatment is not done (refer to ISO/TS 11405)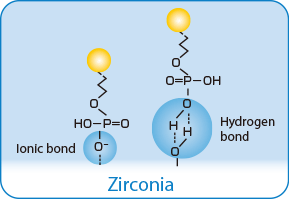 M-TEG-P has the property of binding strongly to zirconia surfaces, which also generates priming effect.
Feature.3

Mild etching for both enamel and dentine

Etching can be done by applying Multi Etchant to tooth substance. It gives enamel surface roughness and removes cutting waste (smear layer and smear plug) from dentine, which assists the adhesion of bonding materials. The mildness of this product prevents dentine from over-decalcification.

Electron microscopic image of enamel surface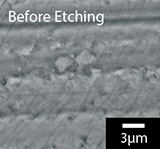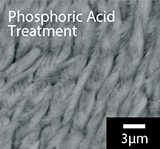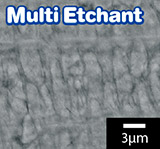 Electron microscopic image of dentine surface